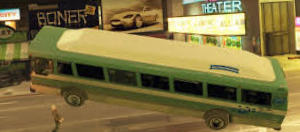 A Party Bus is a bus where you can either drive it or see it moving on the Carmaggedon Mod or use the bus mod. The first Party Bus was designated as a "Regular Bus" and also a form of transportation of KPopp's dates on GTA IV. Party Bus made a cameo on the return of Kelly's Cab Service!.
Story of the series
Edit
Kelly got a second "Regular Bus" and called it the "Love Bus" after picking up Kate on a date. Still on the same episode, Kelly drove the Love Bus down a highway cliff as an atempt to party, but it failed because the crashing was not very amusing.
Finally, at the end of the episode, Kelly drove the Love Bus into the sea as an atempt to kill Kate but it failed until Kelly used Kate as a bullet proof vest against an officer, that made her fall into the sea and being drowned by the officer. After Kate's death and the "drowning" of the Love Bus, it could be then called "Party Bus".
Appearences
Edit
The first video is questionable because she doesn't mention the word "Party Bus" on the video but yes on the description of the video.
On the video "Woman Driver - THE CRAZY BUS! (Live Video / Bus Driver )" Kelly does not metion Party Bus on the video, but on the comments says "

LIKE if you would get on my PARTY BUS!" but Kelly does mention it as the "Crazy Bus" and the "KPopp Bus Of Doom".

There have been more Party Buses on GTA IV than GTA V.
KPopp got a new bus mod, where she can bring people from one bus stop to another and race to other busses!
Community content is available under
CC-BY-SA
unless otherwise noted.