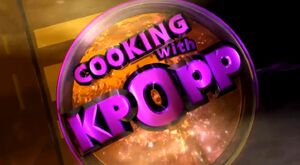 "
Look at the cute mini-butter. It's a little butter! Look at the little butter! Okay, cutest butter ever!
"

–KPopp talking about the mini-butter she's gonna use.
Kell's Kitchen
, however
Cooking with KPopp
in the opening sequence, is a series created by 
KPopp
 that consists of her own versions of recipes and dishes. The series premiered on October 30, 2010, and ran for 5 episodes. The series ended on March 6, 2012. This series is also the oldest non-gaming series made by KPopp and the first series on her Vlog Channel "poppkell".
KPopp has made various types of food, including breakfasts, main courses and deserts. These food are created in her own version, since it was her cooking series. The series, however, wasn't posted on her main channel; where it was posted on her second channel, poppkell, which is a vlogging channel. Many of the things she cooks come from the suggestions made in the comments, and the others either being her own suggestions.