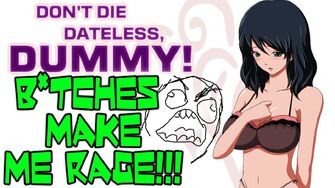 Don't Die Dateless, DUMMY! was a playthrough series by KPopp. The series follows Buttplu, a girl struggling from NBSB (No Boyfriend Since Birth) Syndrome. The series premiered on June 2, 2013, and ran for 4 episodes. The series ended on June 29, 2013.
Main Characters
Edit
Teddy Ass appears in this series.
KPopp would actually rather be a wizard than lose her virginity before she's 30.
KPopp had to do an extra episode because she raiged at Ellie and became a wizard.
KPopp has played a new dating sim from the same make as Don't Die Dateless, DUMMY!, the game is called "Man, I Hate that Indie Game!" and it even has a reference to this game.