"Father, son, holy ghost! Awh darnit, you go first Father!"
―Sister Ivana's reaction after Father Pedro Filio going first in wine pong.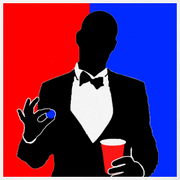 Beer Pong Boss 
is a youtube channel created by 
KPopp
 and
Whiteboy7thst
 that was never continued. However the two Beer/Wine Pong videos that are seen on KPopp's channel are listed here as well. The serie premiered on
KPopp VS Whiteboy7thst
 on March 25, 2012 and ended on June 25, 2012.
KPopp and Whiteboy7thst play Beer Pong or Wine Pong with eachother or guests. In the game each player has 10 cups with a little bit of alcohol in it, one player needs to try to throw a ball into the cups, if he/she succeeds the other player needs to drink the cups where the ball has been in (bounced from one to another).
External Links
Edit